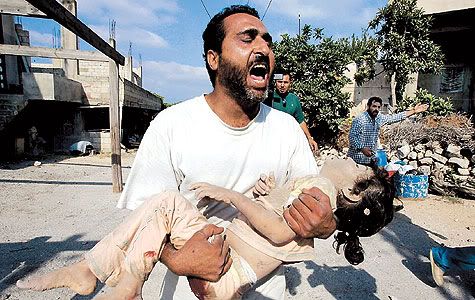 That's it -- that's all. I sincerely want to believe that this blogging bullshit makes a difference -- I wasted the previous post trying to convince myself of this curious idea. Well, I admit my error in this regard. The continuing carnage in Lebanon, Iraq, and all other present and future domains of the Neo-Con Death Cult ... and the photos that document this horror, have pushed me beyond the bend. Dead children, headless babies ... for Christ's fucking sake! What the hell are we doing here?

Sorry -- I just can't do this anymore. You all can continue on with this sad fiction if you want, this delusion that blogging is a concrete activity, that it makes a real difference to real people ... Blogging is a degenerate psychological salve, an empty way to convince your psyche that you're actually doing something when you really

aren't

. It's a cheap, gimicky trick to divert our attention away from our own complicity in all this madness. I apologize for my offensiveness, but I simply can't buy into this crap anymore. So I'm taking an extended "vacation" from this nonsense, in a desperate attempt to uncover

real

courses of action in the face of the insanity -- not that it matters to anybody.

Take care, friends -- watch your backs.